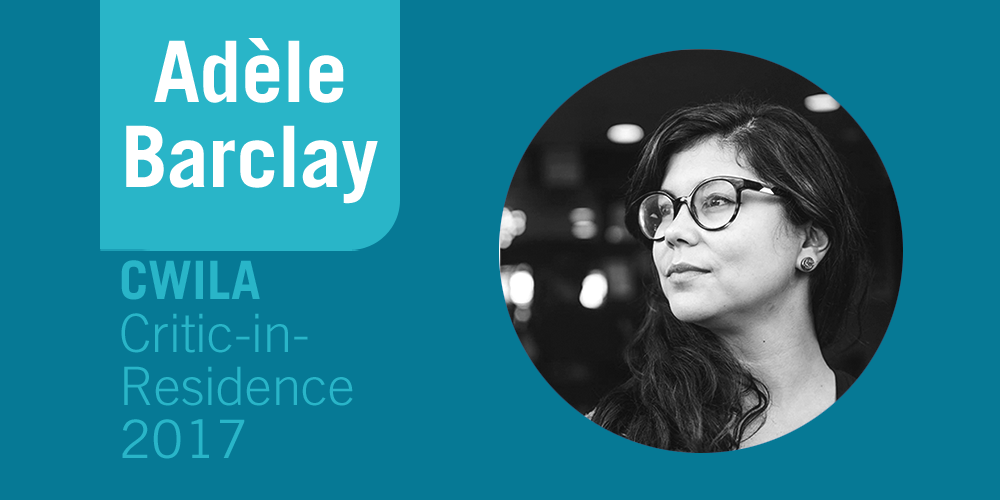 Canadian Women in the Literary Arts (CWILA) is thrilled to announce that Adèle Barclay will be our Critic-in-Residence (CiR) for 2017.
Word from Adèle Barclay:
"I'm honoured and elated to accept the position of CWILA's critic in residence. I'm grateful to the jury for believing in my enthusiasm and granting me the opportunity to fulfill my desire to cultivate literary criticism that centers timely feminist and social justice issues.
I plan to use this platform to carve out a space for intersectional voices, to foster in-depth writing that braids literary, personal, and political threads. I want to interrogate—and invite fellow writers to explore—the concerns facing our writing communities in non-fiction essays that contend with how the literary realm relates to gender, sexuality, race, class and ability. I want these essays to chart the issues as they crop up, and they most definitely will, in the coming year.
CWILA's data tells us that we need more careful analysis of writing by women, queers, non-binary, trans, and genderqueer folks, and people of colour. On top of this, we need to talk about what exactly is getting in the way of these important dialogues—what are the barriers and biases permeating our literary scenes? How does power circulate in unjust ways? I'm curious about how we can use community to build each other up and forge nuanced criticism. I want to enable exploratory, communally-focused literary conversations to counter the ways in which the traditional literary establishment shuts people out.
With CWILA's support I feel empowered to begin these discussions and to ask writers and readers to join me in thinking through what our current literary climate does and doesn't make possible."
Word from the 2017 Critic-in-Residence Jury (Libe García Zarranz, Erin Wunker, Jacqueline Valencia, Lillian Allen, and Lucas Crawford):
"This year's jury is absolutely thrilled to welcome Adèle Barclay as CWILA's 2017 Critic in Residence. We based our decision on the quality and clarity of the project, the venues for dissemination of the work proposed, the language, style and methodology of the proposal, the candidate's credentials, and finally, the ways the suggested project would fit into CWILA's goals. The jury unanimously agreed that Adèle's considered proposal not only meets but also expands CWILA's aims by generating novel conversations on intersectionality, poetics, and gender among other innovative suggestions for collaboration. In particular, we were intrigued and provoked by some of the ideas that Adèle raised in her proposal: pursuing non-fiction essays with a broader scope that brings together literary texts, personal narrative, and political contexts. She posited a fostering another layer of cultural criticism through interviews and non-fiction essays that makes space for discussions within our literary communities' relationships with race, class, gender, sexuality, and ability. The jury thus firmly believes that Adèle's body of critical work and commitment to feminist and social justice issues as a queer femme poet, scholar, reviewer, teacher, and, editor will enhance CWILA's cause. We look forward to the many transformations and collaborations to come. Welcome on board, Adèle!"
Canadian Women in the Literary Arts would also like to extend an enormous thank-you to our outgoing Critic-in-Residence, Lucas Crawford, who has done incredible work over the past year.
You can see the work he did as CiR here.
Welcome, Adèle and thank you, Lucas!
Adèle Barclay is a writer and critic currently based in Vancouver. Her poems and criticism have appeared in The Fiddlehead, The Puritan, PRISM international, The Literary Review of Canada, and elsewhere. She is the recipient of the 2016 Lit POP Award for Poetry and has been shortlisted for the 2016 Walrus Poetry Prize. Her debut poetry collection, If I Were in a Cage I'd Reach Out for You, was shortlisted for the 2015 Robert Kroetsch Award for Innovative Poetry and was published by Nightwood Editions this fall. She is the Interviews Editor atThe Rusty Toque and a community poetry ambassador for Vancouver's Poet Laureate Rachel Rose. She has a PhD in English Literature from the University of Victoria and researches modern and contemporary queer poetry.